Global Network Resources Principals & Product Listing
Global Network Resources, Inc's Computer Products Division (www.gnrinc.com)

Global Network Resources, Inc's Computer Products Division offers complete customized Hardware and Software SOLUTIONS for applications in Desktop computing with custom imaging, Notebook/Laptop/Palmtop, Servers/Tower/Rack, Processor Upgrades and Workstations which include all the major manufacturers such as IBM, Viewsonic, Seagate, Compaq, HP and etc to corporate America. Our Computer Products Division also provides multimedia SOLUTIONS (Creative Labs, Microtek, etc), software packages (Microsoft, Adobe, Symantec, etc), memory (Kingston, IBM, HP, etc), Monitors (Viewsonic, Sony, NEC, etc), Modems (HP, IBM, Xircom, etc), Mass Storage/Memory (Kingston, IBM, HP, etc), Printers(NEC, HP, etc) and peripherals (Kensington, Logitech, Belkin, etc) as well. In total, GNR's Computer Product Division has over 100,000 computer products, peripherals and software products for our customers to select from. GNR currently services Fortune 500 companies in the Silicon Valley with customer tailored WEB Page ordering access that is secure and efficient to the individual specific corporate buyer or user. In addition to all of Global Network Resources' computer products, GNR offers IT management and network implementation services for PC/network deployment/installation projects at multiple site locations, and can help you meet and exceed any PC deployment/installation requirements you may have.

Global Network Resources Display Products Division (www.globalnetdisplays.com)

Global Network Resources, Inc.'s displays division specializes in providing a complete, integrated LCD solution for any size LCD panel specified, including any integrated LCD related components required (touch panels, controller kits, inverters and etc). Our LCD solutions include a full spectrum of LCD's such as TFT, character/graphic type LCD panels/complete modules, OLED, CCFL and LED backlit LCD's, wide viewing angle display solutions, wide temperature solutions as well as ruggedized display solutions. We can also provide Contract Manufacturing services to help facilitate the integration of your LCD, whether it involves building an enclosure, providing EMF shielding and etc. Our focus is on providing an LCD solution utilizing the best controller kits, inverters, etc. and any other engineered solution to ensure optimal performance of the LCD is achieved and delivered to our customers.
Global Network Resources Engineering Services Division (www.gnrinc.com)
Utilizing our combined 100+ years of experience in engineering and the vast network of worldwide technical resources we have worked with, Global Network Resources provides engineering services including product prototype design and manufacturing to meet your project requirements. Global Network Resources Engineering also provides manufacturing services enabling you to transfer your product from the functional prototype/engineering phase to full scale production domestically or overseas. Our product experience covers the full spectrum ranging from a simple consumer type solution to one involving highly technical engineering expertise adhering to strict tolerances and design rules. We are also able to take on any software intensive projects you may have requirements for as well.

IDS Electronics SDN BHD specializes in full turnkey semiconductor assembly and test services of surface mount devices including SOT23, SOT223, SOT143, DPAK-3L, DPAK-5L, SOIC-8L, SOIC-14L, SOIC-16L, USP-3L, USP-4L, USP-6L. IDS Services also include wafer probe, wafer backgrinding, assembly, final test, tube and bulk packaging as well as tape and reel. IDS is ISO-9002, QS-9000, ISO-14001 and TS16949 certified. IDS was established in 1996 and is majority owned by Intan Utilities Berhad, listed in the Kuala Lumpur Stock Exchange.


Endicott Interconnect Technologies Inc (EI) was formerly an IBM facility that produced and supported all of IBM Microelectronics semiconductor packaging. Currently, EI is focused on designing and manufacturing leading edge electronic package, high layer PWBs, Flip chip, High Speed and lead free semiconductor packaging and assembly solutions for the Information Technology, Communications, Instrumentation, Simulation, Medical, Aerospace/Defense and Automotive industries. EI build up substrate technology allows fine pitch flip chip wiring densities while maintaining performance level requirements from our customers. EI capabilities also include product development encompassing prototype design, manufacturing, product testing, reliability analysis and product enhancement. Located in Endicott, NY, EI is ISO 9001:2000, ISO 14001 certified and builds products to IPC, JEDEC and MIL standards or per customer requirements.


Wetop Technology Co. LTD is one of the market leaders specializing in the manufacturing of flash memory products including Secure Digital, mini-SD, micro-SD, Multi-Media Cards (MMC), reduced size MMC (RS-MMC), Compact Flash, USB Drive and USB+SD (SDU) dual interface memory card. With several locations worldwide including Taiwan, China, Europe and Australia, Wetop has become a Flash memory card solutions leading supplier to corporations and retail customers world wide. In addition, Wetop is a member of the SD and MMC Association and is ISO14001, ISO9001 and OHSAS 18001 certified. Wetop's products have also been approved and utilized in products by major companies including Nokia and Siemens.


World Fair International Ltd(WF) was established in 1996 and is a world class leading provider of Electronics Manufacturing Services. With headquarters in Hong Kong and manufacturing in Hong Kong and China, WF provides a broad range of services including PCB manufacturing, surface mount assembly(lead-free compatibility), selective wave soldering, COB, flexible bonding(hotbar), conventional/mixed technology assembly and complete box build, tools/jigs and fixtures development, product testing. World Fair International is also aligned with global electronic suppliers and can provide assembly from customer issued bill of materials. WF also can provide PCB design layout management, design for manufacture and test, rapid prototyping and testing and full turn-key services. WF has also been awarded the highest international quality and environmental certifications including ISO9001, ISO 14001, OHSAS 18001, TUV Approval, UL and CAS Approval.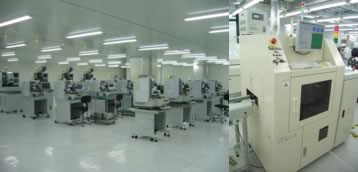 Supercom Pte Ltd manufactures various product equipment focused on industries including Leadframe Systems, Flexible Printed Circuits, Industrial Automation and other Semiconductor based equipment products. Super Components Pte Ltd also is focused on other industries including packaging machinery equipment for food/beverage and other products as well. In regards to its semiconductor capabilities, Super Components' Leadframe Systems include Leadframe Taping, QFN Leadframes, Reel-to-Strip Downset and Strip-to-Strip Downset. Its Flexible Printed Circuits involve FPC Singulation System, Cutting Machine for FPC, FPC Manual Inspection Machines and Dual-Sided Dry Film Lamination. Super Components Pte Ltd's Industrial Automation capabilities include Assembly, Automated Production and Tooling (Singulation, etc). Headquartered in Singapore with multiple locations throughout Asia, Super Components Pte Ltd was established in 1992 and is also ISO 9001:2000 certified.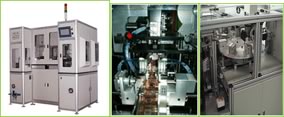 Global Network Resources can provide you with an LCD solution including TFT, STN, TN, CSTN, Monochrome, Graphic and other types of displays ranging from less than 1" to as large as 32" and above to meet your requirements. We offer high bright, transflective/transmissive, polarized, high resolution, wide viewing angle, ruggedized and other types of LCD solutions. We can provide a complete LCD solution including the LCD, controller kit, inverter, touchpanel, EMF shielding, OSD, cabling, etc. optimized for your LCD application so that the best performance/output from your LCD is achieved.

Epak specializes in wafer handling products including raw silicon, finished wafers(canisters, jars, single wafer shippers, coin style, hoop rings, wafer interface materials, flex frames and shippers, In-process carriers (process cassettes and storage boxes, etc). Epak also provides JEDEC and custom IC shipping trays, tape and reel, shipping tubes and bare die products. Their disk drive products include shipping and handling caddies, HGA and HSA trays. Epak provides ROHS compliant and ISO9001/ISO14001 certified products. Epak is located throughout Asia with offices in the USA as well.
Acceptor Technologies
Acceptor Technologies designs and manufactures Ozone generator and Negative Ion generator products. Its products include its Purea product line consisting of ozone generator products for sterilizing, antibacterial and deodorizing applications. Purea products come in portable, wall mount, equipment implant and other type models to meet various customer applications. Current installations include hospitals, laboratories, schools, homes, etc. Acceptor generator has been installed in many locations including Kyoritsu Hospital, Imperial Hotel, Japan Pharmaceutical Association, Teiko University Hospital, Akiu Grand Hotel and many other installations. Acceptor Technologies was founded in 2003 and based in Tokyo, Japan.
MachLock International offers a suite of applications in its "Station-Mu" product line which provide functions such as asset management/information, history/log collection, security and security policy, antivirus, encryption, remote desktop operation/management and other critical applications and features geared toward ensuring a secure computing environment. MachLock also offers fingerprint authentication capabilities with its MachLock "Station-Bio" application which utilizes biometric hardware. MachLock was established in 2004 with headquarters in Japan and offices in Taiwan, Shanghai and Korea as well.